About Catalyst Chiropractic Clinic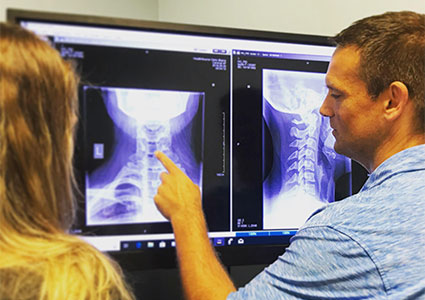 We help people do what they love pain free with safe and effective chiropractic care.
At our practice, you will receive individualized care that starts with identifying the root cause of your pain and puts you on the path towards optimum health.
Catalyst Chiropractic Clinic provides clients throughout Anoka County with specialized chiropractic treatment of chronic and debilitating conditions including all types of injury recovery, back pain, headaches, whiplash, scoliosis, carpal tunnel syndrome (CTS), joint pain, Temporo-Mandibular Joint (TMJ) pain, neurological conditions and osteoarthritis.
We do this with safe, effective, non-surgical, non-narcotic chiropractic treatments, massage, and rehabilitation techniques to alleviate pain and promote the overall health and wellness of our patients.
By focusing on finding, and treating, the root cause of our patients pain we can set goals for optimal recuperation rather than other treatments that just mask the symptoms.
If you have experienced an injury or are experiencing symptoms including chronic headaches, spinal, joint or muscular aches or pains, dizziness, numbness or tingling sensations, fatigue, sleeplessness or any other symptom that is adversely affecting your ability to function and enjoy life we invite you to contact us for an initial consultation to determine whether you are a candidate for chiropractic care. Please call us at (763) 205-3781 to schedule your appointment today and let Catalyst Chiropractic help you get back on the road to good health.