Acupuncture as a Treatment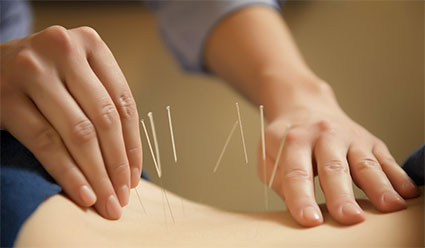 Although acupuncture is not a new form of pain relief or injury treatment, it has only recently been used in western medicine as a viable form of treatment. There has been much research into the benefits of acupuncture, and its uses. We offer acupuncture as a key part of our chiropractic care services, providing our patients with as many pain relief solutions, injury recovery treatments, and treatments for conditions and diseases as possible. Acupuncture helps us provide a holistic, comprehensive healthcare service that works for many of our patients, whether they come to use for one visit or for regularly scheduled visits. As with all of our treatments, acupuncture can be used as a single treatment or as a repetitive treatment dependent upon each individual's needs, making it a flexible natural treatment option.
Benefits of Acupuncture
As with any medical treatment, the benefits of acupuncture are diverse and vary depending on each individual, their injuries or conditions, and the way their body responds to acupuncture treatments. For many patients, though, the benefits of acupuncture are astounding, providing lasting pain relief for a variety of diseases, injuries, and conditions, preventing injuries, reducing stress, and helping your body function normally. Acupuncture can be used to combat inflammation, relive pain associated with injuries, diseases, and conditions, and even treat diseases, headaches, and migraines. Acupuncture can be used as an alternative to pain relief medications and anti-inflammatory medications. In fact, acupuncture is not only effective in providing pain relief, it has fewer adverse effects than pain relief and anti-inflammatory medicines, making it a preferable option for many patients, especially those who suffer from medicinal side effects.
Pain Relief Acupuncture Treatments
Pain relief means something different to everyone depending on their own daily pains. Whether you're suffering from a musculoskeletal condition like arthritis, a painful disease, headaches or migraines, or injury-related pain, acupuncture can help manage, eliminate, and even prevent that pain from resurfacing. No matter the source or cause of your pain, acupuncture can provide the lasting pain relief you can't find in medications, help you avoid invasive surgeries, and provide a treatment method that, even if used repetitively, won't harm your body, as medications can.
Acupuncture Disease Treatments
When you think of acupuncture, you might think only of natural pain relief, but acupuncture is also capable of providing relief from so much more than just pain. If you're suffering from a disease that medications cannot treat, or that you want to treat without medications, acupuncture may be able to be used as a natural disease treatment, depending on your specific disease. The World Health Organization has now recognized acupuncture as an effective natural disease treatment of more than 40 diseases, making it even more preferable to medications than ever before and recognized by physicians as a viable disease treatment method. The nature of acupuncture makes it a particularly effective and diverse disease treatment because it positively affects the muscular, circulatory, immune, nervous, and lymphatic systems of your body. Acupuncture may be your perfect solution.
Acupuncture Musculoskeletal Conditions Treatment
In addition to providing a natural disease treatment solution, acupuncture is a useful treatment for many musculoskeletal conditions, providing pain relief that you can't always get from other treatment options. Acupuncture can be used to treat musculoskeletal conditions like arthritis and reduce arthritis pains, treat temporomandibular joint dysfunction, or TMJ disorder, and treat carpal tunnel syndrome. With natural acupuncture treatments, you may be able to avoid invasive surgical procedures often used to treat these conditions, and reduce your use of pain relief or anti-inflammatory medications.
Holistic Chiropractic Care – Acupuncture Treatments
Like all of our chiropractic care services, acupuncture treatments can be used individually or as a part of an individualized chiropractic treatment plan. We can ensure that you have the best possible array treatments, accompanied by our other chiropractic care services, if necessary, so that you receive an effective acupuncture treatment plan that's right for your body.
To find out more on how acupuncture can help you, contact our acupuncturist in Blaine by calling (763) 205-3781 or emailing frontdesk@catalystchiropracticandrehab.com.