Prenatal Care Including Chiropractic Treatments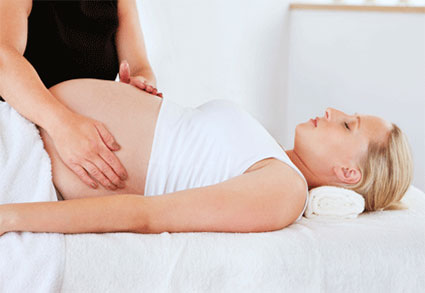 Pregnancy can be difficult for any woman, but there are now ways to make pregnancy less painful and more enjoyable. You can naturally relieve stress and provide pregnancy pain relief without using medications. Stop suffering through your pain, and start pursuing natural prenatal pain relief treatments. At Catalyst Chiropractic, we offer pregnancy chiropractic care for all women, including chiropractic adjustments, massage therapy and nutritional advice. With these prenatal chiropractic care services, we are able to help you not only have a less painful pregnancy but have a safer, faster, and easier delivery. Prenatal chiropractic care can also help you work through common pregnancy ailments and changes that can leave your body in pain and your mind ill at ease.
Prenatal Chiropractic Adjustments during Pregnancy
It might seem strange to think of having a chiropractic adjustment while you're pregnant. It is an extremely beneficial prenatal care treatment that can help your body adjust to your pregnancy more readily, preparing you and your body for your delivery. Simply by realigning your body, fixing postural adaptations, combating pelvic changes, and decreasing your spinal curve caused by the added weight of carrying your baby, we are able to help your body work as closely to normal as possible, improving your range of motion, including bending and turning. We can also help you relieve pain associated with your changing body, from pelvic floor pain to hip pain or back pain. We make sure to use gentle chiropractic adjustments during prenatal chiropractic care. Most experience very positive benefits with their chiropractic adjustments, including reduced nervous and muscular tension and stress relief.
Prenatal Massage Therapy
Prenatal massage therapy is used to combat common pregnancy ailments, from a sore back and legs to aching ankles. Carrying your baby with you constantly for nine months is exhausting, and the closer you get to your due date, the more uncomfortable pregnancy can become. To combat pregnancy discomfort, massage therapy offers tension relief for muscle and nervous tension, allowing your body to relax naturally. Massage therapy improves circulation, returning blood flow throughout your body to reduce inflammation and provide lasting comfort. Massage therapy can also be used to prevent headaches during pregnancy, focusing on trigger points and tension relief massage techniques that will help your mind relax as readily as your body. Massage therapy is a natural pain relief solution, releasing serotonin in your body that leaves you feeling pain-free.
Safer Birth with Chiropractic Adjustments during Labor
Some mothers benefit greatly from chiropractic care during labor, a pain relief solution that offers several other benefits, including potentially shortening labor times and helping you have a safer birth. In fact, chiropractic care during labor can help to reduce labor time significantly, ranging from 25 to 60 percent. Chiropractic care can also be used to reduce the amount of pain relief medications and labor inducing medications needed to progress your labor. All of these factors combined mean that chiropractic care prior to and during labor can significantly reduce labor pains and make the delivery, and post-delivery, experience as comfortable as possible for you and your baby.
Relieving Common Pregnancy Side Effects
With both chiropractic adjustments and prenatal massage therapy, we can help make your entire pregnancy, including labor, more comfortable and less painful. We can improve your prenatal health by improving circulation throughout your entire body, right down to your swollen ankles and hands. By providing you with comfort during your pregnancy and preparing your body for labor with prenatal chiropractic adjustments, we can help you ensure that your pregnancy goes smoother than you could ever have hoped, and your labor is as quick, painless, and safe as possible. Prenatal chiropractic care and massage therapy can also help control nausea and vomiting, reduce the likelihood of postpartum depression, help you avoid a cesarean section if you're planning for a natural birth, and help you carry your baby full term.
To feel the benefits of prenatal chiropractic adjustments and massage therapy yourself, contact Catalyst Chiropractic today by calling (763) 205-3781 or emailing frontdesk@catalystchiropracticandrehab.com.