What to Expect
Individualized care that you can believe in.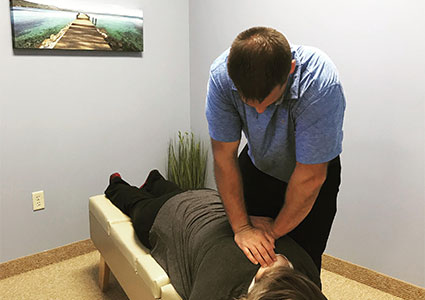 During Your Initial Visit…
You'll receive a tour of the clinic.
We'll discuss your history and health concerns.
The Doctor will perform a few routine health assessments.
We'll develop a customized plan on how to help you do what you love pain free again!
If this is your first time being treated by a chiropractor, you will experience holistic care with long-term solutions to your pain. At Catalyst Chiropractic, we look beyond the immediate pain to how the whole body is affected and create a treatment plan that gets to the root of the problem.
You can feel confident about your treatment plan. Your body has the ability to heal and work the way it is supposed to after it is adjusted and properly aligned. Your doctor will explain each technique that is entirely natural and noninvasive.
Frequently Asked Questions
Do Chiropractic Adjustments Hurt?
The short answer, No. We work with you to create a plan that you're comfortable with. In fact, most patients look forward to treatment because of immediate relief.
How Many Times Will I Need To Be Adjusted?
Each person is different. Treatment times depend on the condition and extent of the injury.
At your initial visit, we'll carefully explain your treatment plan and expectations around the length of care.
After we've rehabilitated your injury, we do recommend periodic check-ups. Just like you'd visit your dentist to maintain good dental health, periodic chiropractic care will help minimize further damage, prevent new injuries and enhance overall health.
Is Chiropractic Care Only For People In Immediate Pain?
No, chiropractic care works with your spinal column, which directly affects your nervous system, which is the major controller of all bodily functions. By maintaining a healthy spinal column structure and biomechanics, your body is able to function as it should.
Can Children Receive Chiropractic Care?
Yes. Chiropractic care is safe for children. We use non-invasive techniques that are specific to the individual. We also help your child strengthen their muscles through rehab exercises to support the adjustments.
Are There Other Benefits To Chiropractic Care?
According to the Journal of American medicine, chiropractic care has the highest patient satisfaction and the best outcomes and most cost-effective way to treat back pain, neck pain, headaches and more.
Not only will you be pain-free and able to do what you love, but you will also experience greater overall health. Patients sleep better, get sick less often and enjoy returning to the activities that they love.