Neck Pain Relief With Chiropractic Care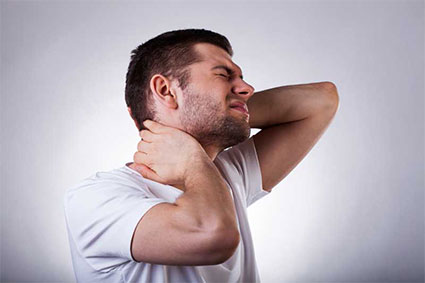 If you're suffering from neck pain, no matter the cause, we can offer you a solution with natural chiropractic neck pain relief and neck injury treatments. Whether you've been injured at work, sustained a whiplash injury in an auto accident, or you have a consistently sore neck for reasons unknown, we'll help cure your neck pain. We will review the specifics of your injury, medical history, and everything about your pain right down to your daily routines and stresses that could be negatively affecting your wellbeing. Once we've identified sources of neck strain, neck pain, and any neck injuries, we'll offer you natural treatments that will relieve neck pain, leaving your body stronger to help you prevent future neck injuries. We provide a variety of chiropractic care services for lasting neck pain relief, including chiropractic adjustments, massage therapy, acupuncture, and corrective exercises, all useful in helping you recover from neck injuries or neck pain.
Chiropractic Adjustments for Neck Injury Pain Relief
If you're suffering from persistent neck pain, or if you've sustained a neck injury, chiropractic spinal adjustments may be what you need to help your body feel normal again. Spinal adjustments are particularly useful in treating neck injuries associated with misaligned vertebrae or strained neck and back muscles. By correcting spinal misalignments, chiropractic adjustments ensure that your vertebrae are re-centered and that your neck and back are aligned correctly. Simply by improving your body's alignment, our chiropractors are able to relieve muscular and nervous tension and improve circulation. This relieves neck pain caused by any number of factors, from injury to strains on your muscular, nervous, or circulatory systems. Because of this, chiropractic adjustments are invaluable in providing neck pain relief and treating neck injuries, no matter their cause.
Neck Injury Massage Therapy Recovery
If you've ever received a massage, you're likely familiar with the effects of stress relief massages. However, massages are used for so much more than stress relief at the end of a long day; they're a recognized form of chiropractic care, used to treat multiple conditions and ailments, including neck injuries and neck pain. Massages positively affect your entire body, targeting many of your body's systems to provide all-around tension and pain relief.  Whether you're suffering from muscular neck pain, a pinched nerve, or a strained neck injury caused by an accident, massage therapy can relieve muscular tension and nervous tension, improve circulation, and relax your body for faster healing.
Acupuncture Neck Pain Relief
Acupuncture provides concentrated pain relief and stress reduction. Acupuncture is used to target very specific areas of the body. Acupuncturists deliberately choose sections of your body on which to use acupuncture, providing focused pain relief and injury treatment that heals your injury at its source.
Whiplash Neck Pain Treatment
If you're unfamiliar with whiplash or symptoms of whiplash, you may not know whether you might have sustained a whiplash injury. Often times, whiplash injuries are caused by auto accidents, which create a large amount of force and movement to cause whiplash. Car accidents are by no means the only cause of whiplash injuries. Whiplash is caused by a large amount of force pushing or pulling your head away from your body, placing an immense amount of strain on your neck. Even if you've taken a slight fall, or caught yourself slipping down the stairs, you could have sustained a whiplash injury. If you think you may be suffering from whiplash neck pains our chiropractic care treatments, from spinal adjustments to massage therapy and acupuncture to corrective exercises, can help you on your way to whiplash recovery.
Neck Injury Corrective Exercises
Corrective exercises are useful in not only treating neck injuries but also in preventing neck injuries and providing lasting neck pain relief. With corrective neck injury recovery exercises, we focus on identifying sources of your neck injury or consistent neck pain in order to help you avoid particularly straining activities that could cause neck pain. Common sources of neck pain can include daily routines and repetitive stress, such as sitting in one position at work or habitually lifting heavy objects; poor posture; or auto accidents. With corrective exercises, we can help you recover from auto accident injuries, repetitive stress injuries, and more, and can combat other sources of neck pain or injury.
Contact the Blaine chiropractic care specialists at Catalyst Chiropractic today at (763) 205-3781 or frontdesk@catalystchiropracticandrehab.com, and find out how our chiropractic services can provide lasting neck pain relief, aid you in your neck injury recovery, and prevent neck injuries in the future.