Neurostimulation Therapy Services in Minnesota
At Catalytst Chiropractic & Rehabilitation, we are always looking to invest in technology that can help our patients live a more fulfilling and pain free life. One such technology that we have recently introduced to our patients is neurostimulation therapy. This new method of pain treatment offers several advantages compared to other more traditional intervention methods such as surgery or addictive pain medications.
What is Neurostimulation Therapy?
Neurostimulation therapy is a unique way of treating patients dealing with chronic joint and muscular pain. Because all injuries have some sort of a neurological origin, a neurostim device helps to identify where the problem originated in the body so it can be treated at its source. This is much different than an MRI or CAT scan which can identify the location of the pain, but not necessarily its source.
Chronic pain occurs when a muscle or group of muscles aren't able to activate fast enough and because of this force is sent to tendons, ligaments and other soft tissue that's simply not designed to absorb this force. In these instances, the neurological signal is not passing through to the muscle which results in scar tissue buildup. When scar tissue occurs, tendons, ligaments and other soft tissue reduce the movement of nearby muscles and joints. This process typically results in chronic pain.
With the neurostimulation device, we're able to locate these problem areas and find out what is causing the problem, reactivate the muscle and move the force away from the injured area and significantly accelerate healing.
Types of Injuries Neurostimulation Therapy Can Help to Heal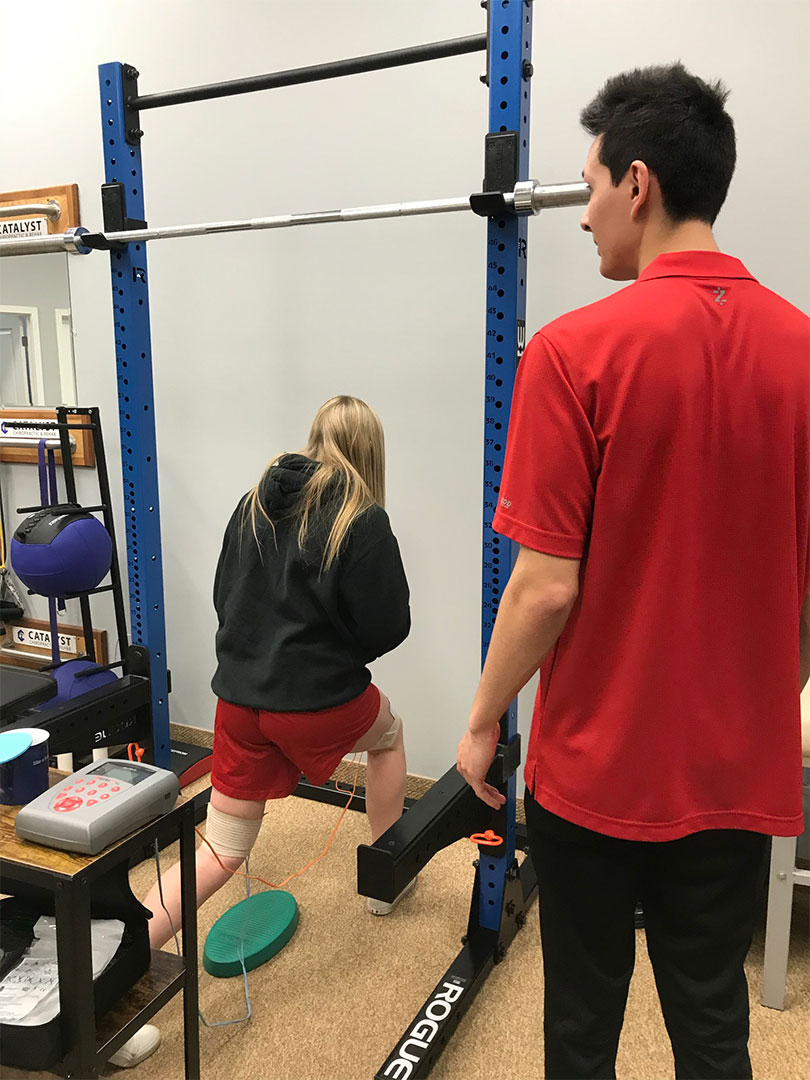 Neurostimulation therapy can help with a wide variety of injuries, including:
Sciatica
Whiplash
Disc Bulge or Herniation
Muscle Sprains or Strains
IT Band Syndrome
Hip Sprain or Strain
Plantar Fasciitis
Ankle Sprain or Strain
Achilles Tendonitis
Runner's Knee
Patellar Tendonitis
Rotator Cuff Injuries
Headaches and Migraines
TMJ
Carpal Tunnel Syndrome
Tennis Elbow
Golfer's Elbow
Tommy John Surgery
Clinical Trials Show Promising Results from Neurostimulation Therapy
There are several clinical trials that show strong results from neurostimulation therapy as a positive alternative to highly invasive surgery.
Advantages of Neurostimulation Therapy
Below are just a few advantages of neurostimulation therapy:
Non-Invasive Procedure – Neurostimulation therapy consists of a non-invasive procedure that can be completed in our Chiropractic office. This is much different than painful surgery that is highly invasive and brings with it a large number of risks.
No Addictive Pain Medication – With the opioid crisis running rampant in Minnesota and across the entire country, it's important to understand that neurostimulation therapy is a beneficial alternative to addictive painkillers. With millions of people across the globe struggling with opioid addiction it's important to do all you can to avoid ingesting these harmful and extremely powerful medications. Remember pain medication just masks your symptoms, as opposed to solving the source of your discomfort. Furthermore, prolonged use of opioids can result in a higher tolerance for these medications and cause some people to resort to other more powerful and illicit drugs.
Are You Currently Struggling with Chronic Pain?
If you're currently dealing with chronic pain know that the team at Catalyst Chiropractic & Rehabilitation is committed to helping you enjoy a life free of pain. We'll do our best to not just mask your symptoms, but put together a holistic plan to get to the root of your issue once and for all. Our team of experienced providers will take the necessary time to get to know you as an individual so that we can develop a plan that works for you. Give us a call today at (763) 205-3781, or use our convenient form to schedule an appointment.