Relieve Headache Pain Naturally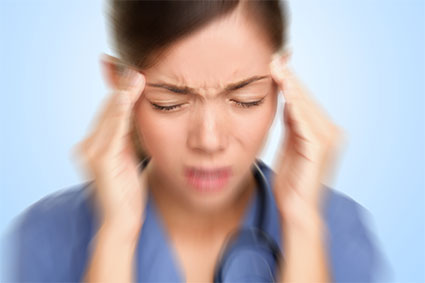 Do you suffer from headaches on a weekly, or even daily basis? Are you constantly searching for new ways to prevent headaches, relieve headache pain, or combat migraines? Are you tired of taking large doses of headache relief medications that don't always work? If you're in need of a new headache relief solution, chiropractic care may be exactly what you're looking for. Headaches can be caused by any number of things, from stress to dehydration, muscle tension to nerve tension, and that means that headache remedies may be as diverse as your ailments. Through chiropractic adjustments, massage therapy, acupuncture treatments, and even nutritional support, we can provide you with natural headache pain relief and headache prevention that will leave you wondering why you've been dependent upon medication for so long, and why you never thought of chiropractic care before!
Massage Therapy for Headache Relief
We can help you not only treat headache pains but also prevent headaches by targeting the causes of your headaches. Massage therapy can provide relief in your muscular, circulatory, nervous, lymphatic, and immune systems. Whether your headaches are caused by a pinched nerve, daily stress and muscle tension, or even sinus pressure, massage therapy can provide a headache relief solution.
Chiropractic Headache Pain Treatment
Chiropractic spinal adjustments realign vertebrae in your back and neck, which relieves tension between vertebrae, reduces nerve and muscle tension, and removes nerve pressure in your neck and back that may be causing headache pains. Chiropractic adjustments can be used as needed to correct spinal misalignments and prevent headaches, whether you need a few spinal adjustments to fix a simple misalignment or a more intense regimen for more severe or longstanding problems.
Acupuncture Headache and Migraine Treatments
Acupuncture treatments are another viable headache pain relief solution, often helpful in providing headache relief and preventing headaches. Acupuncture can help protect against headaches by relieving tension and stimulating certain areas of your body. With acupuncture, we can relieve headache-causing tension buildups and ensure that your body's systems are functioning properly.
Recognizing Migraine Symptoms
If you've been suffering from frequent severe headaches, if your headaches sometimes seem to be more severe than usual, or if you think your headaches are getting worse and worse, you may actually be suffering from migraines. Although our chiropractic treatments are often effective natural migraine treatments, it's helpful for both you and our natural medicine doctor to understand your symptoms completely before offering a diagnosis, and therefore a treatment plan. By understanding your specific headache symptoms, we can identify whether you're suffering from headaches or migraines and create a headache or migraine treatment plan that's right for your body and mind. To help us in diagnosing your migraines or headaches, it's important that you know some of the common migraine symptoms. The symptoms of migraines you might experience can include:
Intensely severe headache pain
Dizziness
Nausea or motion sickness
Sensitivity to light
Sensitivity to sound
If you find yourself retreating to a dark room, avoiding movement, or sleeping off your headaches, make sure that your chiropractor knows all of your headache symptoms so that they can identify and treat your migraines properly.
Relieving Common Causes of Headaches & Migraines
With chiropractic care, you can often eliminate and prevent headache and migraine pains. Whether you need chiropractic adjustments, massage therapy, acupuncture, or a combination of the three, we'll do our best to help you. We can help you create headache prevention exercise and dietary plans, changing your lifestyle, ridding your body of toxins, helping you get the nutrients you need, and eliminating common causes of migraines or headaches that may be hidden in your daily routine.
Contact Catalyst Chiropractic today at (763) 205-3781 or frontdesk@catalystchiropracticandrehab.com, and try out our natural headache and migraine relief chiropractic treatments today.