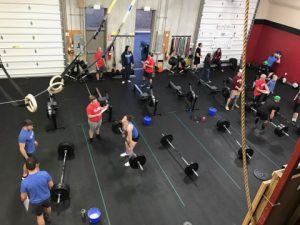 If you are an athlete and are passionate about sports that you play, you already understand that the joy of your activities goes well beyond the activities themselves. The satisfaction is as much mental as it is physical, and in many cases it is more so. Much has been written about the endorphins that are released in the brain when we engage in physical activity, but relatively little seems to address the difficulties we face—mentally and psychologically—when an injury or other physical condition disrupts our athletic activities. For casual athletes, disruption of activity may produce frustration or anger; for more serious athletes, this frustration and anger can be extreme. One way to prevent injury and reduce the likelihood of disruptions to your athletic goals is to complete athletic performance maintenance, an area of expertise offered by the team at Catalyst Chiropractic & Rehab in Blaine, MN.
Athletic Performance Maintenance in Blaine, MN
Athletic performance maintenance is a systematic and preventive approach to your overall health that can reduce the possibility of injuries interrupting your ability to participate in athletic activities. Catalyst Chiropractic & Rehab offers a wide range of chiropractic services that increase flexibility and physical resiliency so that you can prevent injuries. We realize that injuries do occur, however, even to athletes in exceptionally good condition who devote time and energy to athletic performance maintenance. However, athletes who are committed to a performance maintenance plan like the one we offer tend to heal faster and respond better to the mental and psychological challenges that come with injury.
It may be tempting to think that athletic performance management is for elite athletes only, but really nothing could be further from the truth. If your greatest athletic feats are in the distant past and you now find enjoyment playing the occasional round of golf or hitting balls in a batting cage with your grandkids, you can also benefit from this program just as much as a marathoner or triathlete who is half your age.
Sports Medicine Injury Prevention
Catalyst Chiropractic & Rehab can help you by offering the professional skills of our staff, which includes the expert use of chiropractic adjustment, massage therapy, and acupuncture, to name a few. We will individualize your performance plan to optimize your flexibility, resiliency, and overall health. Our staff understands the importance of activity in the lives of our clients, and it is an honor to be able to share our professional acumen with people who love being active. If you live in Blaine, MN and would like to schedule an appointment with us, call (763) 205-3781.