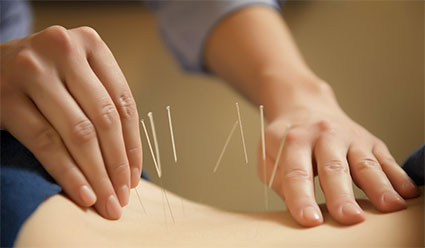 Catalyst Chiropractic & Rehab is an excellent choice for Blaine Acupuncture Treatments. Our staff are experts in the delivery of acupuncture for the treatment of a wide range of conditions, including migraine headaches, allergy relief, musculoskeletal conditions and more. Acupuncture is one of the oldest treatments known to us. It comes from traditional Chinese medicine and has been helping people with a variety of conditions for thousands of years. For years, it was considered a lesser treatment compared to modern medicine, but acupuncture is now understood to be a very important precursor to modern medicine. In other words, much of what we now consider to be modern medicine has its roots in proven techniques like acupuncture.
Effective Acupuncture Treatments in Blaine, MN
For acupuncture to work effectively, it must be practiced by professionals who have undergone the kind of extensive and intensive training that the staff at Catalyst Chiropractic & Rehab has. We have the knowledge and experience to deliver acupuncture treatment with great precision, thereby increasing the possibility that it will offer you the maximum benefit possible.
Acupuncture is especially effective at reducing inflammation and encouraging the strengthening of the body's immune system. This means that you may be able to reduce or even, in some cases, eliminate the use of anti-inflammatory medicines. For this reason alone, acupuncture is a preferred treatment for many patients who are concerned about the effects of over the counter medications.
Acupuncture is an effective treatment for the following conditions:
Arthritis: the pain from arthritis can be persistent and often excruciating. Acupuncture, by reducing inflammation and increasing blood flow in and around the affected joints, is very effective at relieving arthritis pain.
Carpal tunnel syndrome. With our growing reliance on computers, more people are at risk of experiencing the pain from carpal tunnel syndrome. Acupuncture is an effective treatment for carpal tunnel syndrome.
Migraine headaches. If you get migraine headaches with any frequency, you know how debilitating they can be. Acupuncture is among the most effective means of reducing the pain of migraines and decreasing their frequency.
TMJ, which stands for temporomandibular joint disorder, is a painful condition that occurs in the jaw area. Acupuncture's effect of reducing inflammation and increasing blood flow is helpful in responding to the pain caused by TMJ.
Sleep disorders. If you are having difficulty sleeping, acupuncture's ability to provide a feeling of overall relaxation can result in a more restful night's sleep.
Contact Catalyst Chiropractic & Rehab in Blaine, MN if you are interested in learning more about how acupuncture might be able to help you. You can reach our team to schedule an appointment by calling (763) 205-3781.