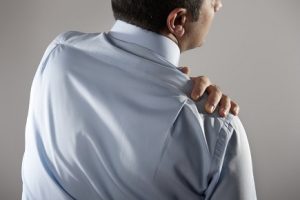 What draws many people to chiropractic care are persistent lower back injuries, whiplash injuries after a car accident, and pain caused by repetitive motion injuries, such as carpal tunnel syndrome or elbow tendonitis from playing tennis. Those are some of the more common reasons why people seek chiropractic care, but they are certainly not the only ones. The lower back, the neck, and the extremities are likely the most common areas associated with chiropractic treatment, but those are certainly not the only parts of the body that can respond well to the chiropractic care offered by Catalyst Chiropractic.
Non-invasive Treatment For Shoulder Pain
The shoulder–more specifically the shoulder joint–may not be the first part of the human body that brings chiropractic care to mind, but it is something that we have had great success in treating. The shoulder joint is much more complex than most people tend to think. A common issue presented by our patients with shoulder discomfort is tendonitis. Tendonitis is not life threatening, but it can be extremely painful. When tendonitis appears in the shoulder for the first time, the person experiencing the pain becomes acutely aware of just how painful something that is not life threatening can be. Tendonitis is defined as inflammation of the affected tendon, and the pain signals sent to the brain can be very intense. A person with a less severe case of tendonitis may be able to avoid the experience of intense pain by limiting actions that require movement of the shoulder joint. But for people who are experiencing more severe tendonitis, the pain is almost always present, and it can feel impossible to find a comfortable position.
We do not recommend relying on over-the-counter pain relievers and inflammation reducers because they come with undesirable side effects for the brief periods of relief they provide. Chiropractic care, however, can reduce the inflammation that is responsible for causing you the pain and discomfort. When you make an appointment, we will work hard to figure out the cause of your shoulder pain. Our treatment plan will be developed on the basis of understanding the cause. For example, if you have developed arthritis in your shoulder, our treatment plan could be very different than a response to an impinged nerve caused by poor sleep posture.
Shoulder Pain Relief In Blaine
Catalyst Chiropractic & Rehab can help relieve your shoulder pain. Call us at (763) 205-3781 to schedule an appointment with our experienced staff.