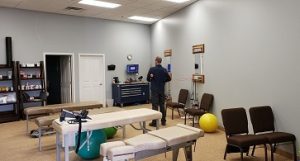 Pain is defined as an uncomfortable feeling that indicates that something may be wrong in your body. It is your body's way of telling you to pay attention. Pain can come in many forms – it can be a dull ache, a sharp pain, a throbbing feeling or a pinch. You can experience pain on the surface of your skin after a fall or scrape, muscle pain after a workout or pain from injury. You may also suffer from chronic pain if you suffer from arthritis or migraine headaches. Sometimes, our first response to pain is to try to manage it by taking over the counter pain medicine. These can provide temporary relief in some cases but do not actually help your body heal from what is causing the pain. In fact, masking the pain keeps your body from telling your brain that something is wrong, and it is even possible to injure yourself even further.
Non-invasive Pain Relief Options
Catalyst Chiropractic & Rehab located in Blaine Minnesota, specializes in finding ways to relieve all types of pain without relying on over-the-counter medications or surgical intervention. Our team believes that you should be able to find a way to live pain free, and we are committed to helping you with this. Chiropractic care is safe and effective and can help alleviate pain from any of a number of issues including:
● Car accident injuries (soft tissue injuries and whiplash)
● Injuries after a fall
● Headaches (including migraines)
● Arthritis pain
● Lower back pain
● Neck pain
● Athletic injuries
● Carpal tunnel syndrome
● Discomfort during pregnancy
Blaine MN Chiropractic Clinic
Our clinic has the capacity to provide a wide variety of treatment options for pain relief. Our staff will work hard to understand the source of your pain, how long you have been experiencing it and any other issues that you have noticed. We will then develop a personalized treatment plan that will address your specific needs. This may include chiropractic adjustments, massage therapy, acupuncture, rehabilitation exercises and neurostimulation. Very often, we actually recommend a combination of these non-invasive therapeutic options to achieve the best possible results. When you work with us, you will have a true partner that will help you get back to feeling your best.
You do not have to live with pain. If you would like to schedule an appointment and learn more about our chiropractic treatment options at our Blaine, MN clinic, give us a call at 763-205-3781.