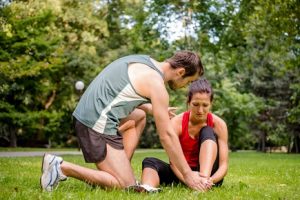 This day in age, more people are in search of holistic treatment to help them with medical conditions, injuries or chronic pain. In particular, chiropractic care has become increasingly more popular by individuals from all backgrounds. At Catalyst Chiropractic & Rehab, we are a chiropractor serving Blaine, MN, and we would love for you to give our chiropractic treatment a try.
You may have heard from another family member, friend, coworker, teammate, etc., about how much they love chiropractic care. Well, there's quite a few reasons why individuals are transitioning to chiropractic care for their pain relief and recovery needs. At Catalyst Chiropractic & Rehab, we're here to explain what all the talk's about. First and foremost, chiropractic care is a natural way for your body to recover from a wide range of medical conditions and bodily injuries. You no longer have to rely on pain medication or an invasive procedure to achieve relief. Additionally, chiropractic care effectively speeds up the recovery process so that you're able to get back to living life at full strength. With safe and effective chiropractic treatments from Catalyst Chiropractic & Rehab, you'll be able to get back to doing what you love to do without having to deal with the pain that's been holding you back for so long.
Personalized Chiropractic Care in Blaine, Minnesota
Once you've decided to reach out to Catalyst Chiropractic & Rehab, we'll get to work on creating a personalized chiropractic treatment plan. All injuries and medical conditions are different, so getting a true understanding of what type of injury or condition that you're dealing with is an extremely critical part of the process. Dr Bob, will take as much time as needed to determine the issues you're dealing with. By choosing our team for your chiropractic needs, you can count on receiving a tour of our clinic and having a detailed discussion around your health history and any concerns you may have. Additionally, we'll perform a few routine health assessments and provide you with a personalized chiropractic treatment plan.
Common Questions Around Chiropractic Care
There are some common questions that we regularly answer for our chiropractic patients. Chiropractic adjustments do not hurt. We work with you to make sure you're completely comfortable with your treatment plan and most of our patients look forward to their appointments. When it comes to the amount of chiropractic adjustments you need, that all depends on each individual's injury. It never hurts, however, to regularly utilize chiropractic care as a maintenance treatment as well.
As an affordable chiropractor serving, Blaine, MN, our team at Catalyst Chiropractic & Rehab hopes that you'll give chiropractic care a try. To learn more about this holistic treatment option, contact us today at (763) 205-3781 or email frontdesk@catalystchiropracticandrehab.com.