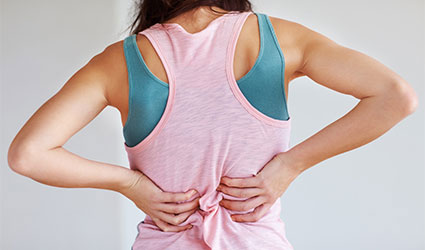 Pain is a signal from your body that something is not quite right. It can be mild, or pain can keep you from moving and functioning normally. It has gotten so easy to pop a few over the counter pain relievers and go on with the day, but when you stop and think about it, those pain relievers are just masking the signal from your body. If you are dealing with chronic back pain, next pain, headaches or arthritis, you may want to consider a treatment that actually is treating the issue in your body causing the pain. Chiropractic care is a non-invasive, highly effective therapeutic option that can help you get back to optimal health without relying on pain medication and/or surgery.
Non-Invasive Pain Relief Options
Chronic pain is difficult for many reasons. In addition to the actual pain individuals feel on a daily basis, the anticipation of the pain and the psychological impact can be crippling. Chronic pain can impact your overall quality of life and keep you from doing the things that you love to do. It can last a few days and then subside, or it can be relentless and go on for months at a time (or longer). If you are suffering, you should know that there are options to consider that do not require daily medication or surgical intervention.
Chiropractic adjustments can help align your spine, taking pressure off of other areas that may be causing your pain. In addition, chiropractic adjustments promote healing within your body which over time can reduce chronic pain. Massage therapy can be used in conjunction with chiropractic adjustments to relax and soothe tight muscles and prevent future pain and injury. Acupuncture is another highly effective treatment option for naturally reducing pain. It is used for clients with arthritis, chronic headaches or even injuries that are causing pain. Finally, Catalyst Chiropractic & Rehab offers neurostimulation to help prevent pain signals from reaching the brain and rehabilitation exercises to keep you healthy in between appointments.
Live Pain Free
You do not have to suffer with chronic pain in silence. Our staff understands how difficult dealing with chronic pain can be and we are committed to helping you treat it so that you can get back to feeling yourself again. If you would like to learn more about our comprehensive approach to pain management, give us a call anytime at 763-205-3781 to schedule an appointment.