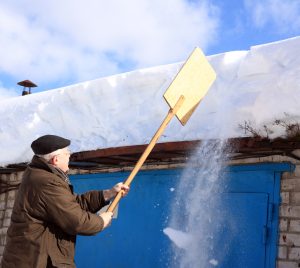 As we enter the winter season, officially, our to-do lists most likely include getting through the holiday season, cleanup and such afterwards, year-end duties, new years' resolutions (gym memberships?), lots of grocery shopping, and let's not forget snow shoveling! Few people have "seeing a chiropractor" on their to-do lists, but the upcoming cold weather has an impact on our bodies – from injuries to depression – winter takes its toll. You can help to combat these negative impacts by seeing a chiropractor regularly throughout the season.
Cold Weather And Chronic Pain
It may come as no surprise that people who suffer from chronic pain find that pain is intensified during bouts of colder weather. Arthritis is a prime example. Muscles tend to stiffen up, joint pains intensify, and headaches are triggered. A visit to the chiropractor can help to alleviate these pains. Through use of techniques such as spinal manipulation, inflammation and muscle tensions can be immediately relieved.
The "winter funk": Winter is the season with the longest nights, the most darkness. More than three million Americans report suffering from Seasonal Affective Disorder, or SAD. Symptoms include social withdrawal, fatigue, and depression. Chiropractic care can treat SAD with light therapy, and through techniques such as adjustments and even massage therapy, can increase endorphins within the body, elevate your mood, and help you to sleep better.
Dealing With Back Strain And Other Soft Tissue Injuries
There is a major uptick in the number of back injuries reported during the winter. This is caused by people climbing ladders more, straining more, and of course, shoveling snow with incorrect postures. When these injuries occur, seeking out chiropractic care can help to deal with soft tissue injuries. More than the RICE diet (rest, ice, compression, and elevation), see a chiropractor. You might be amazed with the results!
Immune system boost: Misalignments of your spine can cause direct interference between your nervous and immune systems. While you may not be showing signs of illness, keeping your spine aligned ensures that your immune system can function at its best. Seeking out chiropractic care and spinal adjustments might just be what the doctor ordered!
Chiropractic Care For Back Strain And Other Soft Tissue Injuries Blaine MN
To help yourself get through the winter "blues," schedule an appointment with the chiropractic care team at Catalyst Chiropractic today! Call (763) 205-3781, email frontdesk@catalystchiropracticandrehab.com, or stop by our office at 10904 Baltimore St NE #103, Blaine, MN 55449. We look forward to helping you!