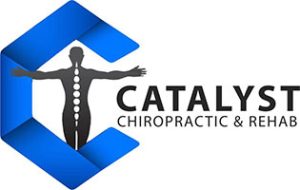 Seeking help for a condition or an injury can be a bit nerve wracking. In fact, seeing a new health care provider can cause stress for most of us. The team at Catalyst Chiropractic & Rehab will work hard to make you feel comfortable from the moment you walk into our clinic until the time you leave. We can help you get relief from the pain and discomfort you are feeling and develop a long-term treatment plan that will help you stay pain free.
Initial Chiropractic Visit Overview
When you come to our clinic for your initial visit, you can expect to get a tour of our facility with time for you to ask questions and get to know our team. We will sit down with you and get a full health history and really listen to your concerns and your goals for recovery. Next, we will complete a gentle and brief health assessment, so that we can create a personalized treatment plan that is literally made for you. You can expect our staff to explain this treatment plan in detail and provide you with a clear sense about what types of improvements you can expect to see and when. We do not overpromise, but we do want to convey that our treatment plans generally are very successful at helping our clients recover from injury and minimize pain, stiffness and discomfort.
Before you come into our office for your first visit, you should be aware that chiropractic adjustments generally are not painful. In fact, many of our clients feel immediate relief after an adjustment and look forward to coming in for each visit. After your initial assessment, we should be able to tell you how long we think that you will be in treatment and how many chiropractic adjustments will benefit you most. Our goal will be to help you live pain free so that you can complete your daily tasks without discomfort and enjoy your life!
Personalized Treatment For Pain Relief
Catalyst Chiropractic & Rehab wants you to feel comfortable with our approach and your treatment plan from the moment that you walk in the door. In fact, you being comfortable is a key to the treatment's success. So, we really listen to your questions, your concerns and work hard each day to make sure that our clients have all the information they need to be confident in our treatment plan. For more information about our team and our clinic, give us a call at 763-205-3781 to schedule an appointment.