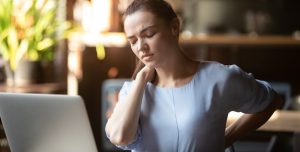 Headaches can come on without warning, they can be persistent and for some, they can be debilitating and interfere with your day-to-day function. Headaches can be caused by stress, muscular tension, diet and/or dehydration, lack of sleep, vision issues, medication side effects, and changes to home levels. No matter the cause, you likely want to be able to manage your headaches to reduce both the pain and the frequency. Many people turn to over the counter medications like ibuprofen or acetaminophen to lessen the severity of the headache once it has taken hold. But there are ways to reduce the pain and frequency of headaches and even prevent them from coming in the first place.
Non-invasive Treatment Options For Headaches And Migraines
Chiropractic care is a very effective, non-invasive treatment for headache and migraine relief. The staff at Catalyst Chiropractic & Rehab can work with you to combat your headaches, reduce their severity and prevent them from starting. We will develop a personalized treatment plan for your unique symptoms and needs. We use a combination of chiropractic adjustments, massage therapy, acupuncture, and nutritional support to help you find the headache relief you are looking for. Pain relievers only mask the pain and can even cause rebound headaches as the medication wears off.
Chiropractic care targets the source of your headache and treats it. A chiropractic adjustment will help realign your vertebrae in your back and neck which can relieve tension and nerve pressure that can be the cause of headaches. Acupuncture and massage therapy can also relieve the tension in your body and promote your own self-healing mechanisms. These treatments attack headaches at the source and can be effective for long term treatment. The staff at Catalyst Chiropractic & Rehab will make a recommendation for specific treatment (or often recommends a combination of non-invasive treatments) to develop an individualized treatment plan that will work best for you. In addition, we can provide advice on nutritional and exercise changes that can help as well.
Blaine MN Chiropractic Clinic Focusing On Headache Relief
Our staff wants you to feel your best and persistent headaches can take away from you being able to enjoy life. You can be headache free, without relying on constantly taking over the counter medications to get you through the day. For more information about our chiropractic treatments for migraines and headaches, give us a call at 763-205-3781 to schedule an appointment.