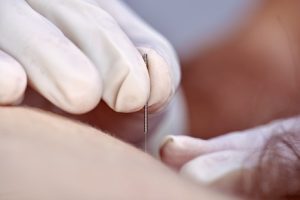 Acupuncture has been used for thousands of years, dating back to traditional Chinese medicine, in which small needles are inserted in specific locations around the body to reduce stress, decrease pain, and facilitate healing. While there are varying opinions on the exact way in which your body benefits from this practice, it has been proven to provide relief for a wide variety of conditions. At Catalyst Chiropractic in Blaine, MN, acupuncture is offered as a sole treatment or an integral part of a chiropractic care and therapeutic plan that consists of various treatments over time – making it a flexible treatment option for many patients.
Pain Relief Without Prescription Medications
Acupuncture has been proven to help relieve pain caused by a wide variety of health conditions including neck and shoulder pain, back pains, chronic migraines and tension headaches, and sciatica – all without considering surgery or adding prescription opioids and medications to your daily routine. This makes acupuncture a viable option for those that seek relief without having to take medications.
Elimination Of Chronic Stress-Related Tension
Acupuncture is known for immediately decreasing tension within muscles, as well as other types of stress-related tensions that occur within the body. Conditions such as back spasms, tension headaches, migraines, and other stress-related conditions see the most benefit from acupuncture procedures.
Mood Enhancement And Better Sleep With Acupucture
As a side effect of the stress and tension relief, most patients report experiencing better moods during the day and sleeping better at night, following treatments. Acupuncture not only relieves your body's tension, but aids in the release of neurochemicals that have a beneficial effect on your entire body. Because of these side effects, patients that suffer from insomnia, shift-work sleep disorders, mood disorders, depression, and anxiety may see benefits from acupuncture sessions.
Inflammation Reduction With Acupuncture
Inflammation is natural and beneficial in response to bodily injury or infection, but chronic inflammation can lead to a variety of other health conditions that are not beneficial, such as arthritis, diabetes, heart disease, and even cancer. Acupuncture has been known to reduce inflammation.
Ready To Experience Acupuncture For Yourself?
There are many direct and indirect health benefits of acupuncture. To find out more about how acupuncture can help your health improve, call the experts at Catalyst Chiropractic in Blaine, MN at (763) 205-3781 or email frontdesk@catalystchiropracticandrehab.com to schedule your consultation today!