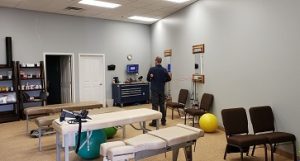 Have you been searching for a way to engage in a natural treatment plan that is designed specifically for you and the pain or injury you are struggling with? Well, if you are in Blaine, MN there is good news because our dedicated staff at Catalyst Chiropractic & Rehab offers individualized chiropractic care for all of our patients.
There is arguably no appointment more important than the initial visit with our chiropractic team. The reason for that is because we develop your individualized chiropractic treatment plan off of what is found and discussed during this initial visit. During the initial visit, we work to ensure that our clients are totally comfortable with the experience, which includes a tour of our clinic. From there, we will dive deep into your medical history and the health concerns that you may have. Our chiropractor will go through a few regular and routine health assessments to help get a true understanding of your health. Our staff will take as much time as you need to ensure that we truly understand the medical issues that you are dealing with. Last, but not least, we will develop an individualized chiropractic treatment plan created specifically for you.
The Power Of The Body
Your body is an extremely powerful thing. It has the ability to heal and strengthen on its own, if we just let the process happen. Rather than referring to pain medication or an invasive procedure for pain relief, our chiropractors are here to help your body heal holistically so that you can achieve natural pain relief. Through our chiropractic adjustments and manipulations, our staff will work to get your spine and body back into proper alignment. This will enable your body to heal naturally and can even speed up the recovery process all together. Whether you are an athlete dealing with an injury, you are pregnant, or if you have been recently in an auto accident, etc., chiropractic care is an effective holistic treatment option for you to consider.
Chiropractic care is a safe medical treatment option for all ages. If you are ready to tap into individualized chiropractic care in the Blaine, MN area that will help you with your debilitating pain, there is no better team to partner with than Catalyst Chiropractic & Rehab. To schedule your initial chiropractic visit, give us a call today at (763) 205-3781 or email frontdesk@catalystchiropracticandrehab.com.