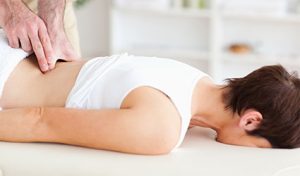 A therapeutic massage can be a helpful tool to relieve stress, reduce pain after injury, and boost your mental health. The team at Catalyst Chiropractic & Rehab offers massage therapy in our Blaine, MN chiropractic clinic. We find that massage therapy can be used alone or in combination with other non-invasive treatment options like chiropractic adjustments, acupuncture, and rehabilitation exercises for a personalized treatment approach to your pain or discomfort. When you make an appointment with our staff, you will receive an initial consultation where we can assess your injury and develop an individualized treatment plan developed just for you.
Benefits Of Massage Therapy To Reduce Pain And Discomfort
Massage therapy is an excellent option for helping your body heal after a sports injury, fall, chronic illness, headache or other physical or emotional stress. Rather than having to rely on over-the-counter medications that simply mask the pain for a short period of time, massage therapy can relax your muscles and encourage your body's own healing mechanism to kick in. Massage therapy can have positive results for back pain, neck pain, shoulder pain, headaches, arthritis, work injuries, car accident injuries, surgery recovery, sports injuries, stress, and pregnancy care. Chronic pain can take a toll on you both physically and mentally, so we often recommend massage therapy for those who are suffering with chronic issues as well.
Massage therapy promotes overall relaxation and provides your body with many important benefits, in addition to helping you feel better. It can help you combat mental stress as well and be more relaxed and refreshed as you face your daily routine.
We understand that you may have been dealing with your pain and discomfort for an extended period of time – likely for many weeks or months and may have already tried many different treatment options that have not worked as promised. You may feel discouraged and unsure of how you will be when you come to our Blaine, MN clinic. You will get a fresh set of eyes on you and your issues, and we will show our commitment to finally solving your health concerns without having to rely on pain medications and/or surgical intervention.
Individual Treatment Plan For Non-Invasive Pain Relief
Catalyst Chiropractic & Rehab can help you find relief from the pain and discomfort that has been taking too much from your daily life. For more information or to schedule a time for an initial consultation, give us a call at 763-205-3781.