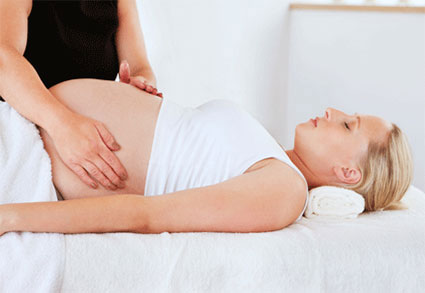 During a pregnancy, the body is rapidly changing each and every day. Due to these constant changes, many individuals experience significant pain during their pregnancy. At Catalyst Chiropractic & Rehab, we are here to provide you natural prenatal pain relief techniques to help you reach birth with less pain that are safe for both you and your baby.
Chiropractic Helps Achieve a Smoother Pregnancy
Did you know that chiropractic care can have a positive effect on the overall pregnancy process?  Not only can our chiropractic adjustments provide you with natural pain relief, but this type of holistic medical care can help you in other ways as well. Studies have shown that chiropractic care can help reduce labor time between 25 to 60 percent. Additionally, this effective natural prenatal support can increase the likelihood of you getting through your labor and delivery without needing a lot of pain medication and labor inducing medications. If achieving a smooth delivery is ideal, our prenatal chiropractic care is just what you need.
Massage Therapy During Pregnancy
Has your aching back, swollen ankles or added weight from the baby been causing you significant pain during your pregnancy? The closer you get to your due date, the more uncomfortable you will become. Well, our experienced massage therapists have just the solution for you during these painful times. Our prenatal massage therapy services can provide you pain relief all the way leading up to your delivery. Through this effective relief option, our massage therapy services will help reduce the tension in your muscles, boost circulation and blood flow, limit headaches and reduce inflammation. In turn, you will be able to enjoy your pregnancy just a little bit more than you may have expected.
Free Prenatal Consultation
Not sure if these holistic medical treatments are right for you? Do you have some unanswered questions that you'd like to speak with our team about? Our staff makes it easy for you to learn more about our natural prenatal support thanks to our free prenatal consultation. All it takes is a phone call and we'll set up a consultation where we sit down and develop an understanding of the pain and discomfort that you are experiencing.
Ready to achieve pain relief naturally during your pregnancy? Looking for ways to achieve a smooth pregnancy going forward? Our team at Catalyst Chiropractic & Rehab is proud to offer natural prenatal pain relief services that has helped so many already. To schedule a free prenatal consultation, give us a call today at (763) 205-3781 or use our online form to schedule an appointment.