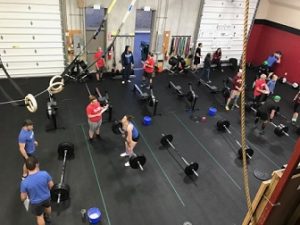 When an athletic injury occurs, you immediately wonder how much time will be missed and how bad is the injury. For some athletes, they may instantly resort to pain medication to try and fight through the pain and continue to play. That may end up making the injury worse and all the pain medication is doing is hiding the pain. At Catalyst Chiropractic & Rehab in Blaine Minnesota, we encourage you to quickly seek a medical evaluation after your sports injury occurs. By choosing our team as your medical provider, we'll provide you with natural rehabilitation solutions that are highly effective at helping you heal, achieve natural pain relief, while often speeding up the recovery time frame from your sports injury as well.
Overcoming Your Injury With Chiropractic Rehabilitation
Every year, more and more athletes are beginning to utilize chiropractic care as a medical treatment option whenever they are dealing with a sports injury. Additionally, some athletes have implemented chiropractic treatment into their maintenance treatments to help keep their body healthy. Grab a hold of your sports injury early, so that it doesn't linger for weeks, months or even years to come. Our proven chiropractic adjustments focus on realigning the spine so that the pain, tension and strain that you are experiencing subsides naturally. In turn, your body is able to heal on its own without you having to rely on pain medication or an invasive procedure to achieve recovery. Chiropractic rehabilitation has been proven to speed up the recovery process, so you'll be able to get back out on the court or field more quickly.
Other Natural Rehabilitation Options
Our natural rehabilitation options don't stop at chiropractic care. We have other natural treatment options that you can incorporate into your personalized treatment plan. Acupuncture is a common treatment option that individuals engage in when dealing with a sports injury. Our acupuncturists will pinpoint the area where the injury occurred and use tiny needles to help reduce the pain you are experiencing. Additionally, massage therapy is another great natural rehabilitation option for athletes. Our massage therapists are experienced and ready to help you achieve pain relief naturally from your sports injury.
The rehabilitation process after a sports injury can be stressful. If you'd like to take a natural approach to your recovery after a sports injury, our team at Catalyst Chiropractic & Rehab in Blaine is here to help. To learn more about our natural rehabilitation services, give us a call today at (763) 205-3781 or email frontdesk@catalystchiropracticandrehab.com.