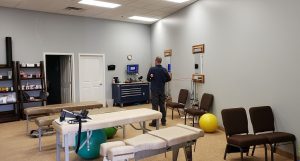 You may be wondering how our team of medical professionals can help you achieve pain relief from an injury naturally. Well, we actually offer multiple holistic treatment options for you to consider. Our most popular treatment method is chiropractic care, which focuses on getting your spine and body back into proper alignment. Through our effective chiropractic adjustments, we'll be able to reduce the pain that you are experiencing from your injury. Additionally, chiropractic care has been proven to speed up the recovery process as well. Another natural rehabilitation option to consider is acupuncture. This medical treatment has been around for thousands of years and used tiny needles to pinpoint your pain and reduce tension in your body. Lastly, consider our massage therapy treatment to provide you the pain relief that you've been yearning for. Our massage therapy services are an effective way to achieve lasting pain relief. Not only can this rehabilitation option help you physically, but it can help you improve mentally as well.
Personalized Rehabilitation Plan
Once you commit to giving our holistic staff a try, we'll create a personalized rehabilitation plan designed just for you. The best part about our rehabilitation plans is that they do not involve surgery or narcotics. Instead, our treatment plans focus on promoting your overall health and wellness naturally. Our dedicated staff will spend the necessary time to determine the specific injury and symptoms that you are dealing with. From there, we'll incorporate one or more of our natural rehabilitation options into a personalized treatment plan. In turn, you'll begin to experience the pain relief that you've been seeking naturally.
There's no reason why you need to commit to an invasive procedure, or a treatment plan centered around pain medication. Instead, leave it up to our team at Catalyst Chiropractic & Rehab to provide you a personalized rehabilitation plan that centers around a natural recovery. If you are in the Blaine, MN area, give us a call today at (763) 205-3781 or email frontdesk@catalystchiropracticandrehab.com to learn more about our natural rehabilitation options.