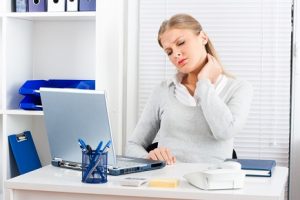 There are many reasons why people schedule appointments with a chiropractor, and many of the reasons involve a certain level of pain and/or discomfort. Catalyst Chiropractic & Rehab has built a reputation for being a great local resource in Blaine, Minnesota for those looking for relief from pain caused by many different issues. Pain can be debilitating. Neck pain is an example of an issue that can be both excruciatingly painful and can also limit your movement. Left untreated neck pain can become a LONG time issue.
Chiropractic Treatment for Neck Pain
If you have been in a car accident and suffered from neck pain in its aftermath or if you have woken up after "sleeping wrong," you might go through your day feeling as though you have been in a car accident. Either way, you understand just how much your life can be affected by a simple neck pain. We are understandably reliant on the free movement of our heads. We require a familiar level of flexibility for safe driving, walking in crowds, and even the more subtle movements associated with working at a computer. When those movements are interrupted by neck pain, your normal function is affected. In more severe cases, normal function is no longer possible because of the intensity of the pain.
Because chiropractic care is based on a deeper understanding of how the systems of your body are connected, neck pain can also result in headaches and/or pain in the shoulders or the lower back. When neck pain is most intense, it can feel like there is no escape from it. The causes of neck pain can vary as well. If we determine that the issue is due to muscle tension, a simple therapeutic massage may be enough to get you back to a normal level of functioning. If the cause is due to the misalignment of your spine, realignment should be the goal. But the pain you are experiencing could also result from the muscles in that area becoming tense from trying to stabilize the misalignment in your spine.
Treatment For Neck Pain in Blaine
Regardless of the cause of your neck pain, our staff has professional knowledge and clinical experience to help you find relief. Our staff combine kind and compassionate care with excellent training and determination to develop an individualized treatment plan that will address your injury and your pain so that you can have long-term relief. Call us at (763) 205-3781 to schedule an appointment. We will be happy to work with you to relieve your neck pain.