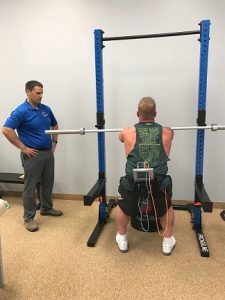 Do you feel like you have tried everything when it comes to trying to achieve pain relief, and you just can't find anything that truly works? Well, our team at Catalyst Chiropractic & Rehab has recently introduced an effective method for you to consider. We specialize in helping our patients achieve pain relief through our neurostimulation therapy. The best part about this treatment option is that it is non-invasive, and it allows your body to heal naturally from your injury or medical condition that you are currently dealing with. We are located in Blaine Minnesota.
Neurostimulation Therapy Basics
For most of our clients, neurostimulation therapy is a new form of medical treatment that they do not have much knowledge about. So, we make it a point to spend as much time as needed with each patient as we go into depth regarding neurostimulation therapy. Simply put, this is an effective treatment option for those struggling with muscular or chronic joint pain. Using our neurostim device, we are able to pinpoint where in the body your pain is coming from so that we can treat the issue right at the source. Oftentimes, this is more effective than other scans because the neurostim device is very effective at identifying the true source. For those dealing with pain in their tendons, ligaments or other soft tissue areas, the neurological signal may not be effectively passing through the muscle, which ends up causing scar tissue. In turn, they are left dealing with pain that can be debilitating. Through our neurostimulation therapy we can identify where the neurological signal is being blocked, determine what is causing the problem and reactivate the neurological signal and move it away from the injured area. This will help speed up the healing process overall and will help reduce the pain that you are dealing with as well.
Neurostimulation Is A Safe Alternative To Pain Medicationneu
While pain medication can provide temporary pain relief for individuals, it can be extremely addictive as well. If you'd rather stay away from pain medication and would prefer for your body to recover naturally from your injury, neurostimulation therapy is an effective treatment option for you to consider.
At Catalyst Chiropractic & Rehab, we are excited to introduce some of our patients to neurostimulation therapy. This is a safe, natural way to achieve pain relief, while also speeding up the recovery time as well. To learn more about neurostimulation therapy, give our office a call today at (763) 205-3781 or email frontdesk@catalystchiropracticandrehab.com.