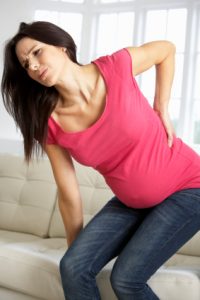 Are you in the middle of a pregnancy and are you looking for some relief? Pregnancy is an amazing process, but it can definitely take a toll on your body. Obviously, the health of you and your baby should be a top priority during pregnancy. So, if you are looking for a way to achieve natural pain relief from the aches and pains of pregnancy, our team at Catalyst Chiropractic & Rehab offers effective prenatal chiropractic care. Serving Blaine, Minnesota with prenatal chiropractic services, let's partner together to make your pregnancy a smooth one!
Prenatal Pain Relief without Pain Medication
Chiropractic care is an effective way for expectant mothers to achieve pain relief without the use of pain medication. The truth is that through our prenatal chiropractic treatments, we can help your body properly adjust to the changes during pregnancy. We'll work to keep your body in proper alignment, boost your range of motion, improve body circulation, reduce your muscular tension and even relieve some of the stress that you're dealing with.
Smoother Delivery with Chiropractic Care
In addition to providing you natural pain relief during pregnancy, chiropractic care has other prenatal benefits as well. Our prenatal chiropractic care treatment will help ensure that you have a less painful, safer and easier delivery when your baby is ready to arrive. Additionally, engaging in regular prenatal chiropractic treatments have been found to speed up the delivery process as well. Studies have found that prenatal chiropractic care can reduce overall labor time by 25 to 60 percent. This holistic prenatal treatment can also help reduce the amount of medications that you'll need to induce or progress your labor. Other benefits that you can see during delivery from a commitment to prenatal chiropractic care includes:
● Better Control of Nausea & Vomiting
● Reduction in the Probability of Postpartum Depression
● Reduced Change of a Cesarean Section
● Greater Chance of Carrying Full Term
Personalized Chiropractic Prenatal Treatment
Every pregnancy is different, so the same chiropractic treatment plan will not work for every patient of ours going through a pregnancy. At Catalyst Chiropractic & Rehab, we believe in offering our clients a personalized chiropractic prenatal treatment plan. Depending on your needs, we may even incorporate massage therapy services to provide you with a well-rounded, natural treatment regimen.
So, if you live in Blaine, MN and are looking for a way to get some natural pain relief without having to rely on pain medication, then you have come to the right place. Now is the time to partner with our dedicated team at Catalyst Chiropractic & Rehab for all of your prenatal chiropractic care needs. To learn more, give us a call today at (763) 205-3781 or email frontdesk@catalystchiropracticandrehab.com.