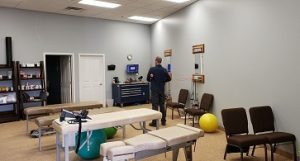 When you are recovering from an injury, it is difficult to think about anything other than when the pain will subside, when you will feel normal again, and will you be at your pre-injury strength. We are here to tell you that you can recover fully, enjoy the activities you did before your injury and live pain free. The staff at Catalyst Chiropractic & Rehab is known for excellent chiropractic treatment, and this can be for a wide range of conditions – including injury rehabilitation. We can develop an individualized treatment plan for you that includes several different elements of chiropractic care including:
Chiropractic Adjustments: The goal of a chiropractic adjustment is to align your spine, so that it can return to its natural position so that healing can more easily occur.
Massage Therapy: Relax your muscles, release tension and find overall pain relief without relying on medication or surgical intervention.
Acupuncture: Acupuncture can help relieve pain from chronic headaches, car accidents, and can actually help prevent injuries, without having to take anti-inflammatory medications.
Rehabilitation: Our staff will provide you with tailored exercises and stretches that target your specific injury so that you can recover more quickly and prevent re-injury.
Neurostimulation: Neurostimulation is a cutting-edge therapy that targets the areas causing your pain and reactivates the surrounding muscle(s) and moves force away from the injured area. This reduces pain and improves your ability to heal naturally.
Non-Invasive Pain Relief After Injury
Very often, our staff will recommend a combination of one or more of these treatment options for optimal recovery after an injury. Soft tissue and muscular injuries can linger if not treated and these can develop into more chronic problems. Our team has extensive experience in the chiropractic field and has a passion for helping clients eliminate pain and recovery from injuries and other conditions. Injuries can be the result of a fall, a car accident, an accident while exercising or playing a sport. Targeted treatment and rehabilitation exercises can be highly effective for your recovery and for protecting you from re-injury.
Catalyst Chiropractic & Rehab is committed to helping our clients find relief from pain. We believe that pain should not be a normal part of your life. We can help you as you recover from an injury to come back better and stronger than before. For more information or to schedule an appointment with our staff, give us a call at 763-205-3781.