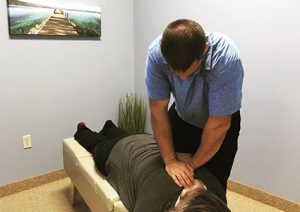 Self-care means a lot of different things to different people. One thing that most of the definitions have in common is that self-care helps you feel better, rejuvenated, and a bit healthier. Catalyst Chiropractic & Rehab offers several options to help you find that balance you are looking for.
Massage Therapy: A massage can relieve tension in your body, reduce pain, reduce stress, and encourage your body to begin to heal itself. Massage is a powerful tool for the body, and the massage therapists at Catalyst Chiropractic & Rehab can help you combat physical, mental and emotional stress with a therapeutic massage. We can focus on the areas in your body that are tense or hurting and in a few short sessions, you will notice a difference in how you feel.
Chiropractic Adjustment: Setting up a time for a chiropractic adjustment can be a great way to help improve your overall health, increase mobility, flexibility and naturally reduce any pain you have, without relying on over the counter medications. Taking the time out of your day to focus on your health is a commitment to YOU! Our adjustments can help with all types of pain and discomfort including headaches, back pain, and neck pain. Our chiropractic adjustments can help improve range of motion, reduce musculoskeletal stress, improve your circulation, relieve nerve tension and begin the healing process.
Exercise And Rehabilitation: We all know that exercise can be a great way to release endorphins, reduce stress and improve your health. However, depending on your fitness level, recent injuries and health conditions, it can be difficult to begin an exercise routine that fits your body and your life. The team at Catalyst Chiropractic & Rehab will make sure that the exercises you do are safe and target the areas of your body that need to be strengthened. If you are concerned about your risk for injury, we can help with that as well. Adding a safe and structured exercise routine to your daily life can be an excellent self-care strategy.
Ways Chiropractic Care Can Improve Your Overall Health
The new year is a great time to begin a new routine that focuses on achieving your optimal health and finding ways to reduce stress and relieve pain. Partnering with the staff at Catalyst Chiropractic & Rehab can help you do this in a careful and safe way. When you make the commitment to self-care, we will help you achieve your goals. Call us at 763-205-3781 to schedule an appointment.