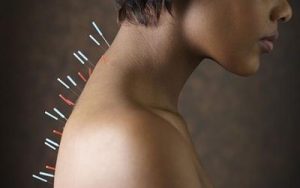 A sore neck can make just about any type of upper body movement more difficult. A sore neck can come from a variety of injuries ranging from an athletic collision, vehicle accident or even sleeping wrong on your neck. For those more severe sore necks, you may actually be dealing with a condition known as whiplash. At Catalyst Chiropractic & Rehab, we take pride in being Blaine, MN's premier sore neck doctor near you.
The pain that you're experiencing with a sore neck is a sign that should not be ignored. Often times, whiplash can go unnoticed for days. Minor neck pain may be just the start of something more significant, such as whiplash. The best thing for your body it to get a quick evaluation after any type of neck injury. As a sore neck doctor, we know exactly what to look for when evaluating the neck. If the injury is significant, getting seen quickly can make a big difference in the recovery process, especially with whiplash.
Whiplash & Sore Neck Chiropractic Adjustments
At Catalyst Chiropractic & Rehab, we encourage our clients to utilize a natural treatment plan rather than relying on pain medication or an invasive procedure. Through our holistic approach, our chiropractors will provide customized chiropractic treatment plans designed to get your sore neck back to full strength. When it comes to whiplash, our chiropractic whiplash treatments are designed specifically for this type of injury. Our chiropractic adjustments focus on relieving the tension from your neck and improving your range of motion.
Other Natural Treatments for Sore Necks and Whiplash
While chiropractic care is our primary focus as a sore neck doctor, we often incorporate other natural treatments including massage therapy and acupuncture. Every sore neck is different, so you can count on our medical professionals at Catalyst Chiropractic & Rehab to provide you with a treatment plan that is best for you. Depending on your symptoms, we'll develop a customized plan centered around our natural treatment options.
If you're dealing with a sore neck in Blaine, MN, it's important for you to seek care from a sore neck doctor near you. The good news is that Catalyst Chiropractic & Rehab is right in your backyard and we're eager to help you achieve natural pain relief from your sore neck or whiplash injury. To schedule an appointment, give us a call today at (763) 205-3781 or email frontdesk@catalystchiropracticandrehab.com.