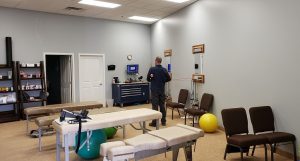 Catalyst Chiropractic & Rehab is a trusted Sports Rehab Center in Blaine, MN. Our staff has diverse talents and deep knowledge of chiropractic treatment options, and one thing we all share is the ability to help your body stimulate its own self-healing properties, especially following an injury suffered while playing your favorite sport. Dr Bob is a competitive Crossfit participant that trains 5 days a week for the crossfit olympics.  Dr Bob understands how important rehabilitation can be for anyone that enjoys competitive sports.
Whether you play your sport competitively or recreationally, the chances are good that part of your enjoyment comes from the many benefits of being active. Catalyst Chiropractic & Rehab is committed to using our knowledge and expertise to help you overcome the limitations of your injury, not just so you can return to playing your sport, but so that you can get back to enjoying the benefits of your active lifestyle.
Return to Your Sport Quickly
Injuries from sports may be inevitable and common, but we at Catalyst Chiropractic believe that fast and full recovery from those injuries should be too. Because of that belief, we have built a chiropractic practice based on our commitment to providing our clients with our knowledge of the most up-to-date chiropractic techniques and the most effective application of them. As a result, we have successfully treated highly accomplished athletes and weekend warriors, as well as lifelong athletes and newcomers who have suffered injuries on their first attempts at a sport.
Our knowledge and experience allow us to treat virtually all sports related injuries. Our treatment plan will be individualized by consulting with you and sharing our insights about what we think will work best for your case. If you are dealing with an acute injury, such as a sprain or a break, we will devise a treatment plan to stabilize the injury and maximize your body's ability to heal. If you are dealing with a more chronic problem, we will adjust our treatment plan accordingly.
Sports Injury Treatment Clinic in Blaine, MN
The types of injuries suffered while playing sports is nearly unlimited, and just about every part of the body is susceptible to one injury or another. Chiropractic care is a remarkably versatile treatment response, and there is almost no sports injury you can experience that cannot be effectively treated by chiropractic medicine. The staff of Catalyst Chiropractic & Rehab is uniquely qualified to provide sports injury rehabilitation.
When you work with our staff, you will see very quickly that we understand your desire to return to full health. We will work to understand you. We treat each of our clients as individuals and never make a treatment plan decision without your knowledge of how the treatment plan will work. With such a cooperative approach, you will soon be back on your chosen field of play. If you live or work in the Blaine area, call us at (763) 205-3781 to schedule an appointment.