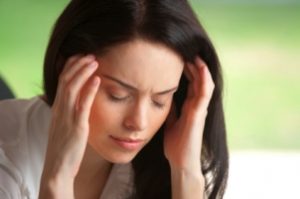 At Catalyst Chiropractic & Rehab in Blaine, MN, we know how debilitating tension headaches can be. Tension headaches can come monthly, weekly or even daily for some. Many tension headache sufferers have tried a slew of treatments that might have worked for a season but tend to always come back with a vengeance.
If you suffer from tension headaches and you are looking for natural relief near Blaine, MN, consider our professionals here at Catalyst Chiropractic & Rehab. We listen to your complaints and hear your symptoms. Then, we focus on finding natural ways to correct and alleviate the problem. Intense pain? Dizziness? Nausea? Sensitivities to light and sound? No one should have to consistently live with those problems. At Catalyst Chiropractic & Rehab, let us help you find natural relief from your tension headache.
The tension in your vertebrae can play a large roll in your headaches. Through chiropractic spinal adjustments for your neck and back, we aim to alleviate that tension. We focus on realigning the vertebrae so that both your nerve and muscle tension are reduced and the pressure is removed. If this pressure in your neck and back is causing your headache pain, we can begin using spinal alignments to prevent your headaches altogether.
Physical Therapy for Tension Headache Relief
Another wonderful service we offer here at Catalyst Chiropractic & Rehab is our physical therapy for tension headache relief. physical therapy is a wonderful, natural way to alleviate tension within your entire body. It provides relief in all of your muscular, circulatory, nervous, lymphatic, and immune systems. Whether your tension headache is caused by daily stress, muscle tensions or pinched nerves, our physical therapists can help you find relief.
Acupuncture Therapy for Tension Headache Relief
Acupuncture is a natural, holistic treatment procedure that has been alleviating headaches and migraines for hundreds of years. It helps to both alleviate the tension and also stimulate areas of the body to ensure that everything is functioning properly and well balanced. Our professionals here at Catalyst Chiropractic & Rehab can provide acupuncture treatments to help alleviate your symptoms and protect against them from coming back.
If you live in Blaine, MN and are searching for tension headache natural relief, call our office today. We want to help you find relief so that you can get back to optimum wellness. Call Catalyst Chiropractic & Rehab in Blaine, MN today at (763) 205-3781 or feel free to send us an email at frontdesk@catalystchiropracticandrehab.com.