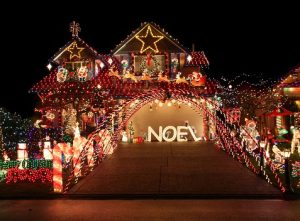 Millions of Americans begin the process of decorating their homes, inside and out, for the holidays right after Thanksgiving. It is a time of year however that injury reports are greatly heightened, due in part to back injuries. In 2021, it was reported that an estimated 15,000 people were taken to the ER due to injuries sustained while decorating. This does not include the number of people that sustained injuries related to electric shock! So, what are some things that you can do to take care of your back (and the rest of your body) during this time, to keep the experience and season enjoyable? Read on:
Pre-staging decorations: One of the simplest things to do is to plan ahead of time. Having your decorations available and ready in the spot that you need them and when you need them will help to reduce injuries. How? Having what you need available will cause you to carry smaller loads (not overloading your back). It will also help to reduce or eliminate the need for too much twisting and bending of your back to get the decorations that you need.
Avoid reaching: Ladder usage, in itself, can be dangerous and leads to accidents if not used properly and placed on solid footing. Take extra measures to ensure that you are using a ladder safely, but by using this, you should avoid reaching in manners that your back and shoulders are not meant. This will avoid hyperextension of the muscles, which can lead to painful cramps, at the least. Ensure all that you need is always within arm's reach.
Proper lifting techniques: This might go without saying, but bears repeating. Whenever you are lifting, be aware first of the weight of the object you are lifting. If over 50lbs, it is best to have a partner helping. In fact, make decorating a family affair! The more, the merrier! When you find yourself lifting objects by yourself, always bend at the knees to bend (not at the back). Improper lifting (bending at the back) leads to more back injuries every year!
Dealing With Aches And Pains Come To Catalyst Chiropractic Blaine MN
Some may think that back pain comes with decorating, but it doesn't have to. Take it slow and be aware of what you're doing, and many pains can be avoided. If you do injure your back, neck, shoulders, or other joints in Blaine, MN, schedule an appointment with the pain management team at Catalyst Chiropractic as soon as possible. Appointments can be made online, or by calling the office at (763) 205-3781.