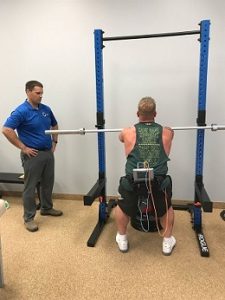 At Catalyst Chiropractic and Rehabilitation, we are always looking to invest in technology that can help our patients live a more fulfilling and pain free life. One such technology that we have recently introduced to our patients is neurostimulation therapy. This new method of pain treatment offers several advantages compared to other more traditional intervention methods such as surgery or addictive pain medications.
Neurostimulation, sometimes called neuromodulation, is a type of pain management that modulates (modulate means "controls" or "regulates") your nerves. The premise behind neuromodulation is that mild electrical impulses block your nerves from sending pain signals to your brain. Because your brain doesn't receive those pain messages, you won't feel the full amount of pain. There are many types of neurostimulation including spinal cord stimulation, peripheral nerve stimulation, peripheral nerve field stimulation, and supraorbital transcutaneous electrical nerve stimulation. Studies show that neurostimulation is an effective method for reducing pain, including back, leg, and arm pain.
What Health Conditions Benefit From Neurostimulation?
Neurostimulation is a safe, reversible therapy that can target any of your spinal or peripheral nerves and alleviate pain caused by many different health conditions, including:
● Arthritis
● Fibromyalgia
● Herniated disc
● Spinal stenosis
● Muscle spasticity
● Lumbar radiculopathy
● Peripheral neuropathy
● Degenerative disc disease
● Peripheral vascular disease
● Complex regional pain syndrome
● You may also benefit from neuromodulation if you have cancer pain that doesn't respond to medication.
Am I A Good Candidate For Neurostimulation Therapy?
People who are good candidates for neurostimulation therapy are those looking to accelerate healing, correct injury patterns and improve performance. If you're dealing with chronic pain or having trouble rebounding from sports injuries, neurostimulation can be a great way to recover quicker and help your body to produce the neuromuscular changes necessary to feel less pain and to even boost your performance.
Are You Currently Struggling with Chronic Pain?
If you're currently dealing with chronic pain, know that the team at Catalyst Chiropractic and Rehabilitation is committed to helping you enjoy a life free of pain. We'll do our best to not just mask your symptoms but put together a holistic plan to get to the root of your issue once and for all. Our team of experienced providers will take the necessary time to get to know you as an individual so that we can develop a plan that works for you. Give us a call today at (763) 205-3781 or use our convenient online form to schedule an appointment.