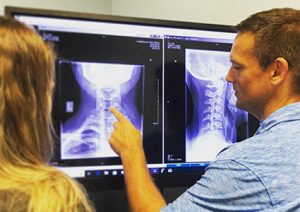 Catalyst Chiropractic & Rehab has become a trusted source for chiropractic care in Blaine, Minnesota and throughout Anoka County. We offer safe, effective, non-invasive treatment options for individuals dealing with a wide range of pain and discomfort. We use a combination of chiropractic adjustments, massage therapy and rehabilitation to reduce pain, treat the pain at the source and help provide your overall health and wellness. Because we focus on determining and then treating the underlying cause of your pain rather than simply masking it with pain medication, you will see long term results.
Your First Visit To A Chiropractor
When you come to our clinic for the first time, you will immediately feel welcomed. Our staff will spend time on the very first visit getting to know you, understanding exactly what is bringing you to our clinic, and what your goals are for treatment. This allows us to develop an individualized treatment plan that is tailored to your unique injury and/or needs. We will make a recommendation for treatment that will actually address the issues you have and give you our assessment of a timeline for your recovery. We understand that there is a certain level of urgency to the treatment schedule.
Some of our first-time clients have some anxiety when they see a chiropractor for the first time, so we try to make sure that you know exactly what to expect. At your first visit, we will show you around our clinic, and discuss your specific health issues and what brings you to see us. Next, our health care providers will complete some very routine health assessments and develop a customized treatment plan that can reduce your overall pain and discomfort and treat any underlying issues you have. Chiropractic adjustments do not cause pain, in fact they can provide immediate relief. Many of our clients look forward to their next adjustment.
Addressing Common Questions About Chiropractic Care
Many people ask us how long they will work with us for treatment and the answer is that it truly does vary from person to person. It is important to know that chiropractic care is effective for acute or chronic pain and for individuals of all ages. Chiropractic is safe and effective for treating back pain, neck pain, headaches, and many other health issues. For more information or to schedule a time to come to our clinic, give us a call at 763-205-3781.