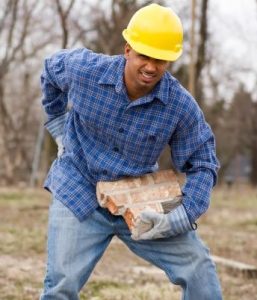 For most of us who work full time, we spend the majority of the hours that we are awake at our place of work. That means, that if we fall or suffer another work related injury, it is certainly likely that it can happen at work. Fortunately, work injuries are generally not your responsibility, but are covered by your company's insurance. It is important to seek treatment quickly so that you do not run into problems with coverage as you recover or find that the injury worsens. Catalyst Chiropractic & Rehab specializes in work related injury rehab for those who work or live in the Blaine, MN area.
Insurance Covered Treatment For Workplace Injuries
The most common type of work related injury occurs from performing the same movement over and over and that puts strain on a certain part of your body. These work related injuries are called repetitive motion injuries. These injuries can impact your back and neck when you repeatedly lift too much in a less than optimal position, or as carpal tunnel syndrome, from sitting at a computer and typing for hours a day. If your job requires a lot of the same type of movements over and over, you want to take periodic breaks and try to build strength in other areas of your body to reduce that strain. If you are suffering from a repetitive motion injury or another acute workplace injury, the team at Catalyst Chiropractic & Rehab can help. We can assess your injury and develop a personalized treatment plan that is tailored to your injury and will give you the best chance of success in your recovery.
Very often, our team will recommend a combination of non-invasive treatment options for your workplace injury. This may include chiropractic adjustments, massage therapy, acupuncture and exercises that you can do at home to relieve your pain and increase your strength. Very often, when we work with someone who has been injured at work, we are able to help them develop strategies for preventing future injuries as well. Our staff works hard to understand your work environment and what has caused the injury so that you can go back to work confident that it will be behind you. Our staff can also help answer your questions about insurance coverage and can provide necessary documentation of our treatment to your company.
Blaine Chiropractor Who Treats Work-Related Injuries
If you have been injured at work in Blaine, Minnesota, do not delay. Give Catalyst Chiropractic & Rehab a call at 763-205-3781 to schedule an appointment.